Since early September we have finalised our trip preparation.
Preparation of Uyo, our 4×4 van
On one hand, Uyo will receive a mechanical optimization for the off road. We took him to a garage specialized in Volkswagen transporters for a check up. Once arrived in the garage, we were immediately conquered; there were volkswagen T3 and T4 equipped everywhere and the owner is passionate about these models. He reassured us that, apart from the rear exhaust silencer to be replaced, Uyo is in very good health. However, to prevent damage that could be caused by going off-road, we will equip it with reinforced shock absorbers as well as a steel protection cover under the engine. The installation is scheduled for next week. We will have the opportunity to assist to the repairs and even get our hands dirty by doing the oil change ourselves. If you're interested, we'll share more information about this in a future article.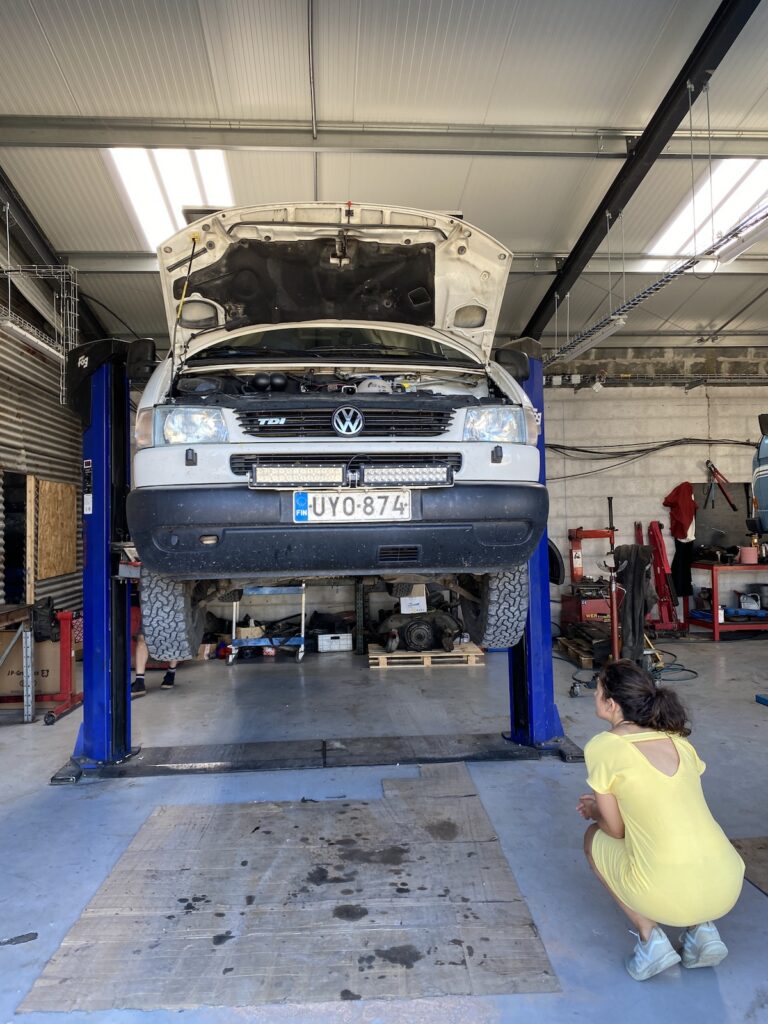 Search for a new itinerary in Africa
On the other hand, we reviewed the current situation in West African countries, especially the land border crossings. Unfortunately for us, there has not been much change lately and some borders remain closed since the covid health crisis. For instance Morocco/Mauritania at the beginning of our itinerary. Access to Benin and Cameroon by road is also restricted. And Angola's only gateway to South Africa has yet to reopen its borders.
Since the beginning of our project we know that we will have to adapt and be flexible. Even before starting , we are pushed to do this for our itinerary. Hence, we decided to start in the South where most of the borders are open offering many possible routes for the first part of our trip.
Until the end, we hoped to keep our original route. That's why we made this decision only a few weeks before departure. We wanted to travel with our van directly, without the constraint of shipping which implies additional costs and risks.
Today it is possible to drive through Namibia, South Africa, Botswana, Zambia, Zimbabwe, Mozambique, Malawi, Tanzania, Kenya and Uganda.
Planning for a new road
To reach these countries we have to ship our van by boat. The most common, and therefore cheapest, container transport routes arrive in South Africa in the ports of Durban and Cape Town. We are working actively to book a container and get the necessary papers for Uyo to go, such as the carnet de passage en douane. This is a very important document, especially in the South and East of Africa, to cross boarders with your vehicle. It certifies that our van is not imported to be sold. For that, we leave a deposit of the amount of our vehicle in France that we will get back when returning.
As you understood, our new itinerary will start in South Africa towards Kenya. The detailed itinerary is not yet defined. It will take shape according to our project which always remains to meet holders of sustainable, ecological and social initiatives and of course to discover African nature wonders.
Eventually, for the second part of our journey, we still have hope that the Western road will reopen, starting from the borders of Angola to drive up to Morocco.